| | |
| --- | --- |
| | This article, The Tripods, is a stub and needs more content. You can assist the WikiSciFi by expanding this article as much as you can. |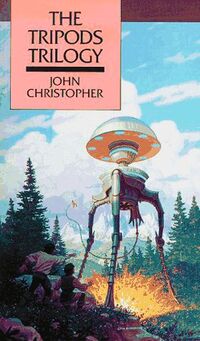 The Tripods is a series of young adult novels written by John Christopher, beginning in 1967. The first two were made into a TV series.
Long ago, the Tripods--huge, three-legged machines--descended upon Earth and took control. Now people unquestioningly accept the Tripods' power. They have no control over their thoughts or their lives. But for a brief time in each person's life--in childhood--he is not a slave. For Will, his time of freedom is about to end--unless he can escape to the White Mountains, where the possibility of freedom still exists. The Tripods trilogy follows the adventures of Will and his cohorts, as they try to evade the Tripods and maintain their freedom and ultimately do battle against them. The prequel, When the Tripods Came, explains how the Tripods first invaded and gained control of the planet.
The White Mountains (1967)
The City of Gold and Lead (1968)
The Pool of Fire (1968)
When the Tripods Came (1988)
Ad blocker interference detected!
Wikia is a free-to-use site that makes money from advertising. We have a modified experience for viewers using ad blockers

Wikia is not accessible if you've made further modifications. Remove the custom ad blocker rule(s) and the page will load as expected.