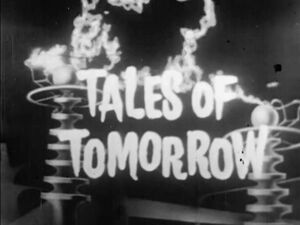 In the early days of television, most
science fiction
offerings were aimed at juvenile audiences, such as
Rocky Jones, Space Ranger
and
Space Patrol
. However, Tales of Tomorrow was credited as to being the first
science fiction
anthology show to be aimed at adults, predating
The Twilight Zone
and
The Outer Limits
by several years.
The show was filmed live, starting with a new episode every two weeks, then that changed to a new episode every week after several episodes were aired. The program ran from 1951-1953 for a total of 85 episodes, running half an hour each in length.
Subject matter
Edit
The show covered what would be considered the usual science fiction staples nowadays of doomsday/end of the world scenarios (the "Verdict From Space" pilot, "Blunder"), horror ("The Dark Angel", "The Children's Room"), humor ("The Great Silence"), horror/fantasy laced with humor ("Time to Go"), space travel/extra terrestrials ("Red Dust", "Appointment on Mars"), parallel worlds ("The Duplicates"), the advent of artificial intelligence ("Read to Me, Herr Doktor") and time travel ("Another Chance", "Past Tense"), among others.
The show also had the earliest literary science fiction works brought to the small screen, such as "The Children's Room", Frankenstein, H. G. Wells's "The Crystal Egg", "The Window" (originally a play), 20,000 Leagues Under the Sea (told in two episodes), and "The Picture of Dorian Gray". Many episodes also had twist endings, and the "What You Need" episode was also later covered on the original Twilight Zone years later.
Performers
Edit
Several prominent actors that appeared in episodes included Lon Chaney Jr., Cloris Leachman, James Doohan (in his very first television science fiction role), Victor Jory, Leslie Nielsen, Eva Gabor, Paul Newman, Burgess Meredith, James Dean, Rod Steiger, Gaby Rodgers, Thomas Mitchell, Gene Lockhart, Darren McGavin, Jackie Cooper, Boris Karloff and Raymond Burr.
Advertising
Edit
Unlike the majority of commercials being 30 seconds long nowadays, in the early days of television, programs would have only one or two sponsors per show with ads that ran up to two minutes in length. The majority of the ads included ones from the Maslin and Sons company (carpets and sportswear) and Kreisler wristbands. The ads are still embedded in most of the episodes which can be seen on hulu.com.
A radio show spin-off of the same name was also released, but it only ran for a few months in 1953.
Ad blocker interference detected!
Wikia is a free-to-use site that makes money from advertising. We have a modified experience for viewers using ad blockers

Wikia is not accessible if you've made further modifications. Remove the custom ad blocker rule(s) and the page will load as expected.