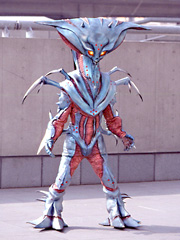 Trilondon, nicknamed T-Top by SPD, was from the planet Trirondonian and was an intergalactic bounty hunter who traveled to Earth in search of the bank robber named Hydrax. He was mistaken as a criminal by SPD and was almost arrested. SPD assisted him in capturing Hydrax and after doing so, T-Top was not allowed to return to Earth because of the damage he did while searching for her.
Ad blocker interference detected!
Wikia is a free-to-use site that makes money from advertising. We have a modified experience for viewers using ad blockers

Wikia is not accessible if you've made further modifications. Remove the custom ad blocker rule(s) and the page will load as expected.