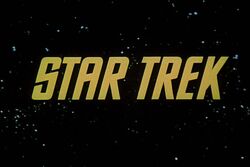 Star Trek: The Original Series (originally called Star Trek) was a television show created by Gene Roddenberry. It was filmed at Desilu and was played on NBC for three seasons from 1966 to 1969. It was set in the 23rd century and followed the adventures of the starship USS Enterprise. It was named The Original Series after several spinoffs were created to avoid confusion between the show and the entire "Star Trek Universe".
In 1979, the original cast was brought back to film Star Trek: The Motion Picture, on a newly refitted Enterprise. The cast would come back for five more movies, ending in 1991 with Star Trek VI:The Undiscovered Country. Despite this, a few original cast members appeared in later incarnations of Star Trek.
Main Cast
Edit
Starring
Edit
Jeffrey Hunter, who played Capt. Christopher Pike was the only star listed in the orignal pilot's opening credits.
Also Starring
Edit
The following regulars were only listed in the end credits as co-stars:
Ad blocker interference detected!
Wikia is a free-to-use site that makes money from advertising. We have a modified experience for viewers using ad blockers

Wikia is not accessible if you've made further modifications. Remove the custom ad blocker rule(s) and the page will load as expected.