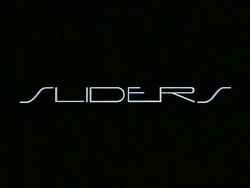 "What if you could find brand new worlds, right here on Earth, where anything is possible? Same planet, different dimension. I've found the gateway."
―Quinn Mallory
Sliders is an American science fiction television series that was broadcast for five seasons between 1995 and 2000. The series follows a group of travelers as they use a wormhole to "slide" between different parallel universes. The show was created by Robert K. Weiss and Tracy Tormé. Tormé, Weiss, Leslie Belzberg, John Landis, David Peckinpah, Bill Dial and Alan Barnette served as executive producers at different times of the production. For its first two seasons it was produced in Vancouver, British Columbia, Canada. It was filmed primarily in Los Angeles, California, USA in the last three seasons.
The first three seasons of Sliders were aired by the Fox network. After being canceled by Fox, the series moved to Sci Fi Channel for its final two seasons. The last new episode first aired on December 29, 1999 in the United Kingdom, and was broadcast on Sci Fi Channel on February 4, 2000. Reruns can now been seen on the channel The Hub.
Sliders tells the story of Quinn Mallory, a young genius who invented an Einstein-Rosen-Poloiski Bridge Device. It follows a group of people, called "Sliders", as they travel ("sliding") between different Earths in parallel universes via a wormhole-like "vortex" created by the Einstein-Rosen-Poloiski Bridge Device. They keep travelling, hoping to return safely to their original Earth Prime.