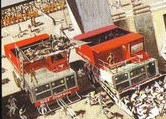 Scoops were modified garbage trucks, used to control riots in New York City in 2020 in the movie Soylent Green.
They had large "scoops" in the front that would catch people as the vehicle drove. The scoop would lift and dump the victims in a bin on the back of the truck.
Ad blocker interference detected!
Wikia is a free-to-use site that makes money from advertising. We have a modified experience for viewers using ad blockers

Wikia is not accessible if you've made further modifications. Remove the custom ad blocker rule(s) and the page will load as expected.