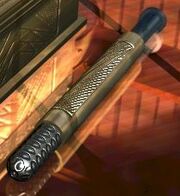 A Poison Snooper is a radiation analyzer in the Dune universe. It is within the olfactory spectrum and is keyed to detect poisonous substances. They are insect-like in appearance and can be mounted above a table to set off an alarm if any poison is detected.
A smaller, hand-held version of the Snooper can be used. A Snooper works by waving it's mecchanical arm over food, scaning it, and then it will reply "safe" or it will sound its alarm.
Poison Snoopers from Ix are considered the best.
Ad blocker interference detected!
Wikia is a free-to-use site that makes money from advertising. We have a modified experience for viewers using ad blockers

Wikia is not accessible if you've made further modifications. Remove the custom ad blocker rule(s) and the page will load as expected.