Dark Star was a low budget science fiction comedy that was made while director John Carpenter was still in college. It was made in 1971.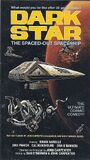 In the future, the Dark Star spaceship is assigned to seek out and destroy unstable planets in solar systems that pose a threat to colonizable planets.
Professionally, the crew of the Dark Star are consummate professionals; personally, most of them do not get along with each other at all: Lt. Doolittle, as he tells Talby, can't talk to the "others"; Talby has been sitting in the top domed area of the ship ever since the Dark Star's Commander Powell was killed (who has been kept in cryogenic freeze ever since); Dolittle ignores Sgt. Pinback, and crew member Boiler punches Pinback around.
Along with being in space for 20 years as the Dark Star deteriorates around them, the ship is armed with bombs that are possessed with artificial intelligence, one of which threatens the entire livelihood of the crew!
Brian Narelle as Lt. Doolittle
Cal Kuniholm as Boiler
Dre Pahich as Talby
Dan O'Bannon as Sgt. Pinback
Cookie Knapp as Computer / 'Mother'
Joe Saunders as Commander Powell
Alan Sheretz as Bomb #19
Miles Watkins as Watkins - Mission Control
Adam Beckenbaugh as Bomb #20 (uncredited)
The movie, which began as a college film project, was originally deemed too short for a theatrical release, so additional footage had to be added on later. Essentially there would be two versions released, one including the additional footage in the movie, while others had the footage tagged on afterwards. Both versions were included with the DVD release.
Ad blocker interference detected!
Wikia is a free-to-use site that makes money from advertising. We have a modified experience for viewers using ad blockers

Wikia is not accessible if you've made further modifications. Remove the custom ad blocker rule(s) and the page will load as expected.