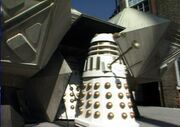 The Dalek Shuttlecraft is a small transport used by the Daleks of the TV show Doctor Who. It is piloted by an "engaged" Dalek and can carry four Daleks.
The shuttlecraft has massive ground defenses, as well as one weakness: an un-guarded service hatch on the top of the shuttle.
Ad blocker interference detected!
Wikia is a free-to-use site that makes money from advertising. We have a modified experience for viewers using ad blockers

Wikia is not accessible if you've made further modifications. Remove the custom ad blocker rule(s) and the page will load as expected.