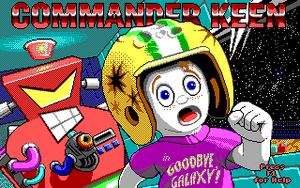 Commander Keen is a sci-fi computer game franchise from the 1990s.
Young Billy Blaze has built his own spaceship out of spare parts. But when he tests it by going to Mars, the some aliens steal the parts for his ship and Billy, who's donned hib brother's football helmet and dubbed himself Commander Keen, must steal them back.
References
Edit
Characters
Edit
Video Games
Edit
Invasion of the Vorticons
Keen Dreams
Goodbye, Galaxy
Aliens Ate My Babysitter!
Game Boy Color
Ad blocker interference detected!
Wikia is a free-to-use site that makes money from advertising. We have a modified experience for viewers using ad blockers

Wikia is not accessible if you've made further modifications. Remove the custom ad blocker rule(s) and the page will load as expected.